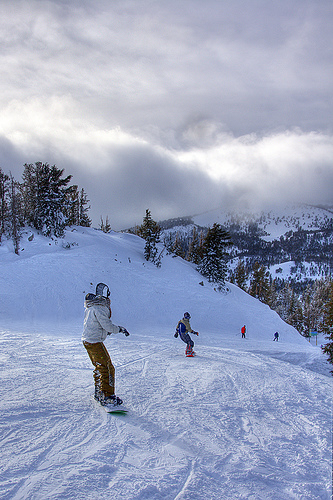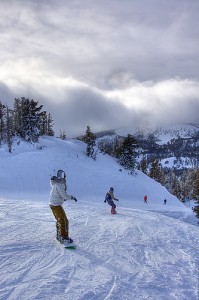 Most of us think of deserts, tumbleweeds, and gambling when we think of Nevada; but, did you know that the name "Nevada" actually means "snow-covered" in Spanish? Many ski resorts here get more than 33 feet of snow each year and most are less than an hour away from civilization.
Lake Tahoe Region
If you want to live right where the action is, consider an apartment in Incline Village (population 10,627, average apartment rent: $1,317) and you'll have 2 major resorts practically within walking distance.
If you don't want to live at the top of the mountains with all that cold and snow, head down to Reno (population: 220,500, average apartment rent: $866) or Carson City (population 52,547, average apartment rent: $905). Both places offer easy access to several resorts, some in Nevada and others that are across the border in California.
A non-winter bonus: the Lake Tahoe area is one of the most beautiful regions on earth during the other three seasons. Live here and you may never want to leave.
Las Vegas Area
Skiing in Vegas? Well, take a 45 minute drive from the Strip out toward Area 51 and you'll find a great big mountain called Mount Charleston as well as the Las Vegas Ski and Snowboard Resort. 80% of the resort is designed for intermediate-to-advanced skiers and riders, while the rest is suited for beginners. The best part is that since Las Vegas residents usually have little need for heavy winter clothes, you can rent all your gear plus your clothing at the lodge. Average apartment rent in the Las Vegas area is about $1,000 per month, depending on where you choose to live.
Elko Area
The Elko region is one of the snowiest in the State and has two nearby ski adventures including the Elko Snowbowl (a great family ski area with super prices) and the Ruby Mountain Heli-Experience. Yes, that's right, get in a helicopter, fly to the top of a mountain, and make it down on your own. Elko's population is 17,430 and average apartment rent is $722 per month.
So, you don't have to put away your skis just because you are moving to Nevada. In fact, live close enough to one of the resort regions listed above and you will probably want to invest in new equipment because you'll be using it so much. The Reno/Tahoe area is supreme, but there are great slopes near Las Vegas and minutes from Elko as well.
How about you? Find any apartment rentals in Nevada? Comment below.
*** If you'd like some help finding an apartment in Nevada, I've got a whole staff of people standing by to help you for free. Call one of our apartment experts at 877-676-1767.
Or, click here: https://www.aptsnevada.com/discover-nevada-apartments
[Image credit: jeffpang]