Boulder Palms Senior Apartments
Boulder Palms Senior Apartments located in Las Vegas, Nevada is where you'll find a carefree and maintenance-free living. There are so many amazing community amenities and is in a convenient location. And with the added bonus of several utilities included, you won't want to miss out on this stunning place to live.

Amenities
There are so many reasons you will want to choose Boulder Palms Senior Apartments. These great pet-friendly apartments come in a stunning one-bedroom option to fit all of your needs. When you live here, you'll have water, sewer, trash, electricity, natural gas, telephone with voice mail, expanded cable all included. You'll also have walk-in closets, large bedrooms, and private storage areas. Also if you need the apartment furnished, that's an option as well.
If you're looking for community amenities, then this is the perfect place for you. Here you have a large on-site laundry facility, an activity center with planned events, and a fitness center. There's a sparkling pool for you to relax in on those hot summer days as well as BBQ Areas.
Neighborhood
This beautiful complex is located in a thriving community full of plenty of things to do. If you're looking to spend some time on the golf course, check out joining The Club at Sunrise or Royal Links Golf Club. Because of the great location, you'll have access to several nearby recreational facilities, shopping, casinos, entertainment, and dining. And only minutes away from the strip. When you're done for the day and looking to get some delicious food, check out Blueberry Hill.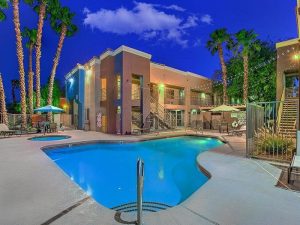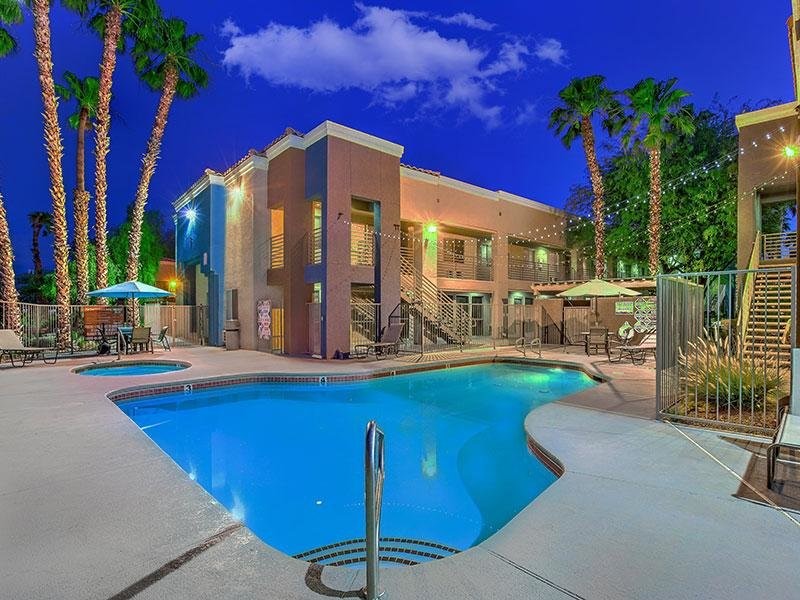 For more information about this apartment or the other great options throughout Nevada, head on over to our site. And if you're looking for some ways to save money while renting in Nevada, you'll want to check out our post.
Boulder Palms
Experience your new lifestyle at Boulder Palms Senior Apartments, where you have the opportunity to live a carefree and maintenance free life. Enjoy the many amenities that your apartment has to offer, giving you all the comforts of home. Conveniently located to Boulder Palms Senior Apartments you will find golf courses, shopping, entertainment, dining, and medical facilities. Also, take advantage of the close proximity of the Las Vegas or Henderson Senior Center which offers a number of recreational facilities. Apartment living has its benefits, one being that you leave the lawn maintenance and landscaping to us. Your free time can be spent lounging by our sparkling pool, exercising in our state-of-the-art fitness center, taking advantage of our activity center, or planning a family gathering at our very own picnic and barbeque area. Our Promise We are dedicated to continuous improvement and driven by customer satisfaction. We are committed to offering homes that make our resident proud. Our strength lies in teamwork and friendliness, and our success stems from that belief. Through teamwork and dedication, we guarantee professionalism and premier customer service.
About
One Bedroom Apartments// includes, electric, water
$970-$980
Address
4350 Boulder Highway
Las Vegas, Nevada, 89121
Contact
(702) 434-9900
boulderpalms@amcllc.net