Horizons at South Meadows Apartments
Horizons at South Meadows located in Reno, Nevada, is where beautiful outdoors meets the perfect modern city life. In an ideal neighborhood, the complex is only minutes away from UNR and the Reno Tahoe International Airport. No matter what you're looking to do, the apartments the perfect hub.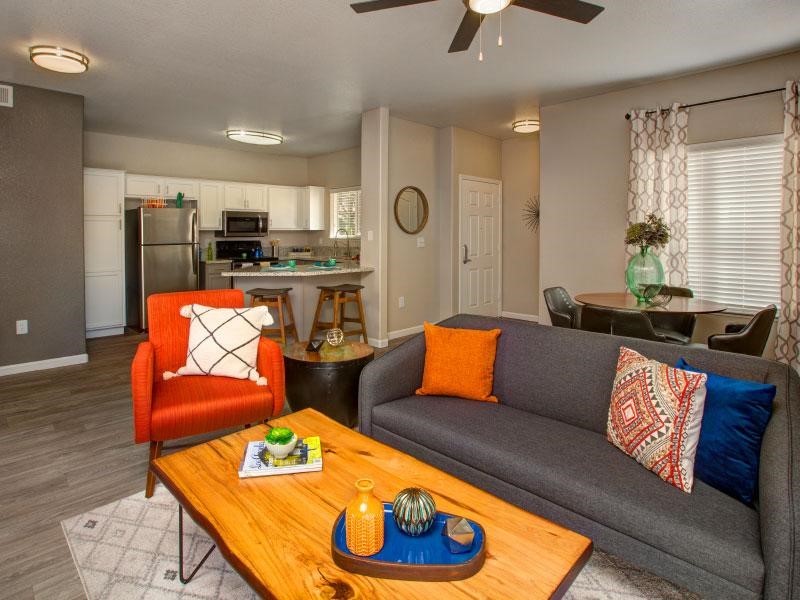 Amenities
At Horizons at South Meadows, the community has many stunning amenities you'll want to have in your next home. These beautiful pet-friendly apartments come in three options: one-bedroom, two-bedroom, and three-bedroom spaces to fit all your needs. Here you'll enjoy walk-in closets, a gas fireplace, and central air conditioning. As well as in every apartment home, there is a full-size washer and dryer.
And if you're looking for some luxurious community amenities, then look no further than Horizons at South Meadows. This gated community offers residents a wonderful business center with copy, fax, printer, and internet services. Plus you have access to a tanning bed, resort-style pool, spa, and cabana.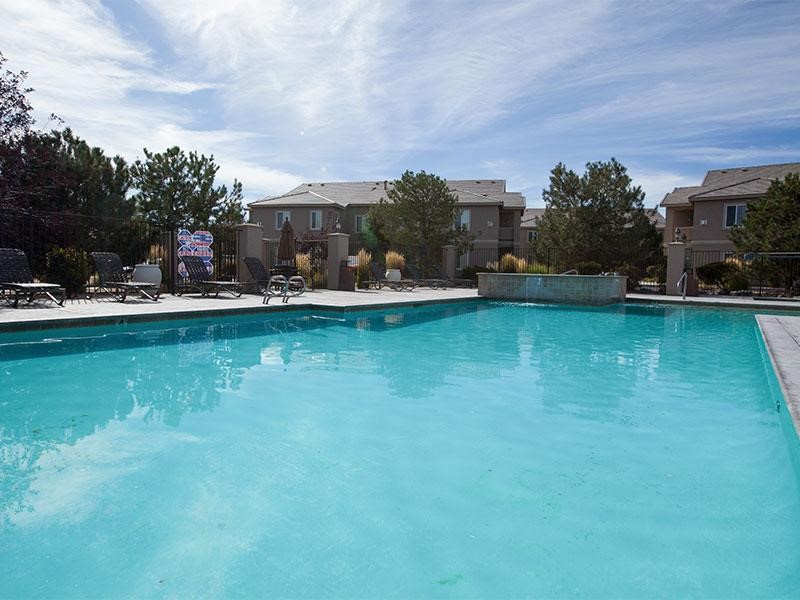 Neighborhood
While this wonderful complex is surrounded by natural beauty and outdoor recreation while conveniently located near large employers like Tesla and Switch. Here you're only minutes away from The Summit Reno or the Meadowood Mall. And if you're looking for some golf, head over to Lakeridge Golf Course. And when heading home for the day, check out the Twisted Fork, for some delicious food.
For more information about this apartment and others like it throughout the beautiful state of Nevada, head on over to our website here. While on your search for the best apartment for you, be sure to head on over to our post about six ways to save money while renting in Nevada.
Horizons at South Meadows
The newest upscale Apartment Community in south Reno! This 344 apartment home property is conveniently located in the newly developed South Meadows area in Reno, NV. Every apartment home has been uniquely designed with your needs in mind. Whether you are looking for a one, two or three bedroom apartment home with an attached or detached garage or covered parking, HORIZONS at South Meadows has a wide variety of combinations for you to choose from. Take a look at our seven different floor plans for more details. Our residents are in walking distance of newly-built boutiques, restaurants, specialty shops, banks, grocery stores, dentists, physicians, walking trails and much more! Located on Double R Boulevard, you will have easy access to the newly expanded Moana Lane, US 395, South Virginia Street, and other major thoroughfares that will make the trip to downtown Reno, Carson City, Lake Tahoe or wherever you need to be just a short drive away.
About
1-3 Bedroom Apartments
Call For Details
Address
9350 Double R Boulevard
Reno, Nevada, 89521
Contact
(775) 851-1122
leasing@horizonsatsouthmeadows.com
Hours
Monday - Friday 8:30 am - 5:30 pm
Sat & Sun 10:00 am - 5:00 pm
Floorplan
SQ Feet
Bed/Bath
Price
A1-R 1x1 Remodeled w/garage
796
1 Bed
1 Bath
$1,500
See Website
B1 2x2 Classic w/garage
1,132
2 Bed
2 Bath
$1,580.00
See Website
C1 2x2 Classic w/garage
1160
2 Bed
2 Bath
$1,649.00
See Website
A-R 1x1 Remodeled
796
1 Bed
1 Bath
$1,325.00
See Website
B 2x2 Classic
1,132
2 Bed
2 Bath
$1,480.00
See Website
C 2x2 Classic
1,160
2 Bed
2 Bath
$1,549.00
See Website
D 3x2 Classic w/garage
1,422
3 Bed
2 Bath
$1,910.00
See Website
A 1x1 Classic
796
1 Bed
1 Bath
$1,200.00
See Website
A1 1x1 Classic w/garage
796
1 Bed
1 Bath
$1,300.00
See Website
B-R 2x2 Remodeled
1,132
2 Bed
2 Bath
$1,600.00
See Website
B1-R 2x2 Remodeled w/garage
1,132
2 Bed
2 Bath
$1,700.00
See Website
C-R 2x2 Remodeled
1,160
2 Bed
2 Bath
$1,645.00
See Website
C1-R 2x2 Remodeled w/garage
1,160
2 Bed
2 Bath
$1,775.00
See Website
D-R 3x2 Remodeled w/ atta ched garage
1422
3 Bed
2 Bath
$2,100.00
See Website
See Website